Michael Lockatell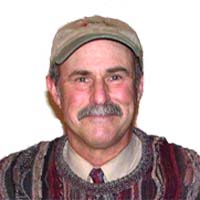 Michael Lockatell started the Joyce Lockatell Memorial Garden in 1997 to honor the memory of his late mother. Her favorite garden plants were iris and peonies. This display garden has been a focus of Roots & Blooms, LLC.
Mike began working closely with the late Dr. Lloyd Zurbrigg to advance reblooming bearded iris breeding after spring visits to his Durham, NC garden in 1999 and 2000. Despite the passing of his friend and mentor in February 2005, he continues to raise rebloom seedlings based on selected Zurbrigg breeding lines. Five Lockatell selections have been registered for future introduction with the American Iris Society. His hybrid iris seedlings have won awards at AIS sponsored flower shows over the past decade.
He has been growing and distributing herbaceous peonies since 2000 after acquiring fifty named varieties from a well-known Midwestern grower and breeder's display garden. These heirloom perennial plants are now showcased in public displays at J.Sargeant Reynolds Community College in Goochland, VA and the Williamsburg Botanical Garden in James City County, VA.
Lockatell has a business degree from Bryant College, Smithfield, RI and an ornamental horticulture degree from Bergen Community College, Paramus, NJ. He has been a landscape professional and turf manager for thirty six years. Since arriving in Central VA in 1996, Mike has been president of the Old Dominion Herb Society and the Central VA Iris Society. He is the American Iris Society Region 4's Reblooming Iris Chairman and a certified AIS garden and exhibition judge. His articles on iris culture and breeding have appeared in AIS sponsored publications.
The VA Federation of Garden Club's Piedmont District honored him with 2007 Individual Horticulture Achievement Award for with work with reblooming iris. The Richmond Times Dispatch, Powhatan Today and Goochland Courier Newspapers had feature stories about Mike and his garden during the May 2008 bloom season. Virginia Living and Virginia Gardener Magazines highlighted Lockatell's herbaceous peony plantings in spring 2009 issues.
The Daily Press of Newport News, VA featured Mike's work with reblooming bearded irises in their spring 2010 Gardening Special Edition. Since winter 2010, he has been a keynote speaker on reblooming bearded irises at American Iris Society Regional Meetings in Kansas City, MO, Indianapolis, IN and Austin, TX.
Lockatell is continuing to construct public displays for reblooming bearded irises and herbaceous peonies around Central VA. His efforts at the Williamsburg Botanical Garden in James City County, VA resulted in an appointment to their Board of Directors in June 2013.