Thomas Silvers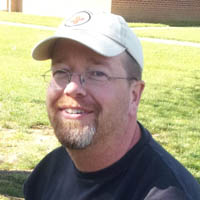 Thomas Silvers gardens in the heavy soil of Rohrersville located along South Mountain, the eastern border of the Hagerstown Valley in Washington County, Maryland. Tom has been growing irises since the eighties. His interest in bearded species led him to try wide cross pollinations in the late nineties. Clown Pants SPEC-X (Silvers, 2004) (Iris variegata X Iris suaveolens var. mellita) was introduced by Iris City Gardens, Primm Springs, TN.
Another important Silvers breeding goal is to produce a bearded iris with purple foliage (PBF), stalks and flower bracts. Tom's strategy is to work at both the diploid and tetraploid levels (24- and 48- chromosomes) to obtain seedlings with purple pigmented plant parts. His early work featured Iris pallida "Kupari" (Tankesley-Clarke, R., 1994) and Iris suaveolens var. rubromarginata on the diploid side. On the tetraploid side, he has used Iris aphylla clones and tall bearded hybrids Honky Tonk Blues (Schreiner, 1988) and American Sweetheart (Sexton, 1983 with success.
MTBs Cricket Song and Easy Smile (Silvers, 2008) resulted from a combination of (Iris cengialtii X Clown Pants). Rebloom has been recorded on both cultivars, so fall flowering has been added to Tom's breeding goals. The diploid angle for rebloom may be a new frontier. The future seems bright for more breakthroughs in the Silvers' backyard seedling patch.
Check out Tom Silvers' article "Not Just Green: Hybridizing Experiments for Purple Foliage" published in the October 2011 edition of the American Iris Society National Bulletin.